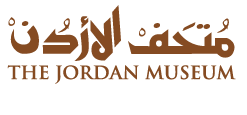 The Jordan Museum … the  storyteller of Jordan
Introduction
The Jordan Museum is located in the dynamic new downtown area of Ras al-'Ayn. Presenting the history and cultural heritage of Jordan in a series of beautifully designed galleries, The Jordan Museum serves as a comprehensive national centre for learning and knowledge that reflects Jordan's history and culture, and presents in an engaging yet educational way the Kingdom's historic, antique and heritage property as part of the ongoing story of Jordan's past, present, and future.
This concept is physically represented in the building's exterior — rough and smooth stones suggest the past and present, glass the future.
Through state of the art storage and conservation practices; support of research and publications; exciting permanent and temporary exhibitions; challenging outreach programmes; and well thought out guest services, The Jordan Museum fulfills a dual role as a repository of knowledge and a centre for education, allowing it to help link Jordan with other cultures, and connecting communities within Jordan for thoughtful dialogues to help meet future challenges.
The Jordan Museum aims to be a jumping off point for visitors to entice them to explore the cultural sites and cities in Jordan. As a museum and research center, The Jordan Museum intends to enable its guests to experience Jordanian culture and history in a lively contextual setting.
Permanent Exhibition Areas
The exhibition space encompasses much of The Jordan Museum's 10,000 square meter building and covers 1.5 million years of Jordanian history and archaeology, starting from thePalaeolithic(Old Stone Age), linking to the present, and projecting into the future. Within three main Chronological Flow Galleries (Archaeology and History, Traditional Life, Modern Jordan), The Jordan Museum tells the 'Story of Jordan' both chronologically and thematically, utilizing graphics, over 2,000 artifacts on loan from the Department of Antiquities, and specially designed materials. The nine major themes elaborated on are the environment, food production and processing, visual art and architecture, cultural exchange and trade, politics and the military, communication and writing, industry, religion, and daily domestic life in Jordan throughout the ages.
Distributed among these galleries are One-to-One Theaters, thematic exhibitions that complement the chronological exhibition themes. These are the main interactive spaces in the museum that communicate Archaeology; Mining; Humans;Nomadism; Writing; Lighting; and Children of Jordan.
Other Exhibition Areas
In addition to the permanent galleries there are outdoor and temporary indoor exhibition areas. Here, on a rotating basis, the museum will offer the opportunity to explore themes in more depth usingtravellingexhibitions as well as in-house special exhibitions.
Makany
A specially planned space that contributes to our goals of education and learning. This is an inviting hands-on area devoted to teaching and learning, where children can express their creativity in projects and performing arts activities inspired by their museum visit.
Conservation Centre
An area supporting the physical sustainability of the objects of Jordan's cultural heritage that combines cutting edge academic knowledge and facilities with practical experience and skills – a conservation center not just for Jordan, but the region.
Library
A facility including several thousand publications of largely donated materials that deal with archaeology, history, education, and museology. For the use of the museum's staff and outside researchers.
Guest Services
The Jordan Museum will offer services to guests to enrich their visit, including a thematic gift and book shop, and a café. Spaces for private and cultural
functions as well as for academic meetings and conferences are also available
Location:
Ras Al-Ayn Area – Next to Greater Amman Municipality Building (Ali bin Abi Taleb Street)
or Omar Matar Street (formerly Al-Muhajereen Street )
Opening Hours:
– Exhibition opens daily from 9 am to 4 pm, Fridays from 2 pm to 5.30 pm except for Tuesday .
– To coordinate educational visits please call The Jordan Museum on 06 4629 317
– To coordinate the visit of tourist groups please call 06 4629 317 
– To inquire about working time during holidays in Jordan please call 06 4629 317
Phones:
+962-6-4629317
+962-6-4611647
+962-6-4611719
Fax:
+962-6-4629312
Mail Address:-
P.O. Box: 830157 Amman 11183 Jordan
E-mail: [email protected]